T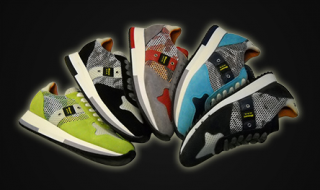 he new running sneakers in multicolor mesh designed by Alberto Del Biondi for BLAUER have been confirmed as a successful product."The result of this project," said Alberto Del Biondi "comes from a cross-sectional view of the market, by continuous research on materials, sometimes technical ones which
find space and create new looks in the fashion world: in these running sneakers, the use of fashionable colors and technical materials, like mesh, come together and create a perfect blend. We work on projects in order to create stimulating and innovative products not only functional, but also fashionable, as this new
running designed for BLAUER ".Once again, Alberto Del Biondi's team demonstrated its ability in the perfection to draw from different areas to contaminate with wisdom and experience their own design. Activities of materials research, product-specific requirements, prototyping of footw
ear in total compliance with the parameters of durability and environmental impact: A weighted mix of product design in reply to the market needs.Alberto Del Biondi, a great friend of Mr. Enzo Fusco since many years, said that in the future there could be a more focused collaboration in the development of footwear.