Past, Present, Future.  April was, a month full of culture, experiences and emotions within Industria Del Design. The enhancement and training of people has become an essential goal that begins to bear fruit and satisfaction. 2 Webinars have been held in recent months, the first with Dr. Alberto Martelli, primary pediatrician, covering the topic of Covid and related questions and doubts of the entire Industria Del Design team. The Metaverse was the focus of the second information webinar, a crucial and popular topic, explained in a easy way with concrete examples to clarify for all IDD team the importance of this new virtual world, all carried out by an internal team composed for the occasion of Andrea Michieli, Marco Benetazzo and Gianluca Tonei.
IDD – INDUSTRIA DELLE IDEE
IDD – Industria Delle Idee ("Industry of Ideas") prize competition was also held with the aim to Improve the company according to two areas, actions that bring positivity to the environment and actions to improve production processes.
Thanks to this initiative, 60% of the people in the company presented various projects, then awarded by  the jury composed of the CDO Massimo Giussani, the SVP Gianni Ceccato and of course the CEO Francesco Pilli.

There was also the surprise of having as guest of honor Stefano Bennati who attended this day rich in culture and stimuli, proud of the results and the team.
The first prize of IDD – Industria Delle Idee was awarded to Davide Scalabrin aka "Trace" for creating a work of art for the company. No less important all the other projects that were awarded with second, third and fourth place, but they could be considered all winners, as the management team immediately started to implement the points in common among all the projects, such as the benefit service of purified water for the whole company, the flexibility of time to meet the needs of each professional and many other projects that will be implemented within INDUSTRIA DEL DESIGN.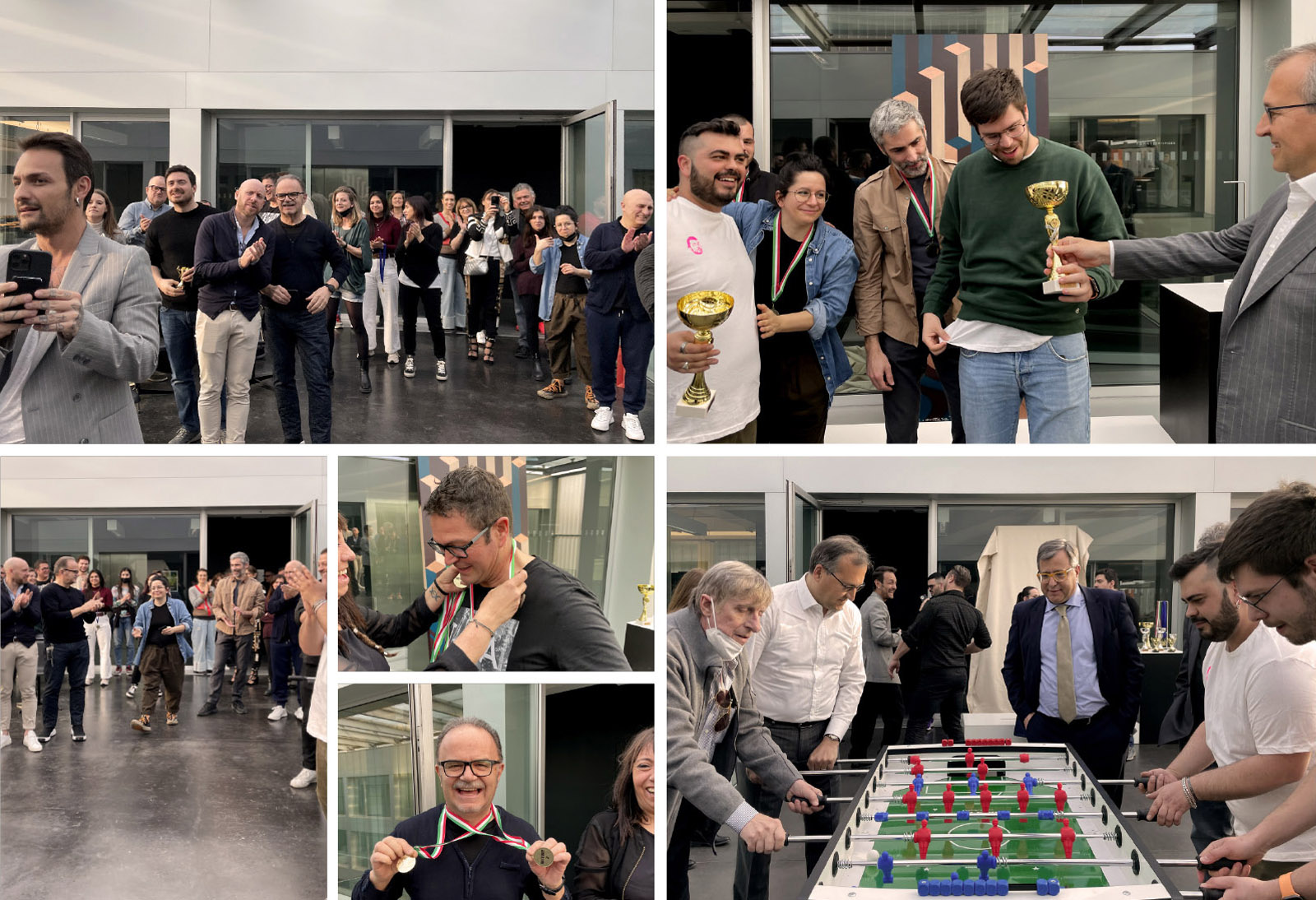 IDD – CALCIO BALILLA
And more… also the table football tournament has been held in the company,
with its well-deserved awards. At the top, winners among twenty teams were "The Future" (perhaps a prediction of business success?), an amazing duo composed of Gennaro Russo and Gianluca Tonei.
The traditional Party Time to toast to these successes could not be missing: another opportunity to consolidate and enhance relationships between people.